TEIN has used its years of experience in various motor sports to produce a kit that provides the ultimate balance between quality and bang for the buck. Developed for drivers seeking an aggressive coilover that can be used daily, and provide all the adjustments needed for circuit use.The ultimate adjustable budget coilover from TEIN for performance and comfort.
The Street FLEX Z damper Kit features the latest technology for all drivers who are seeking performance, and adjustability, while not giving up all ride comfort and unbeatable price and quality. TEIN has incorporated features like separate spring perch height, and shell case length adjustment, which allows the suspension to retain more stroke and for more suspension tuning.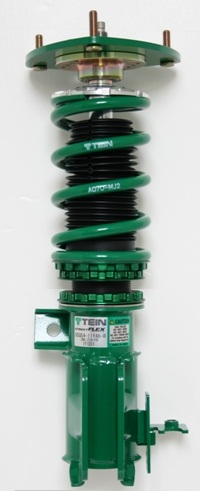 The Street FLEX Z damper kit includes pillow ball upper mounts, which increase steering response; 16 levels of damping force adjustment, and is compatible with the EDFC (Electronic Damping Force Controller) for added convenience and adjustability including a wider range of up to 64 levels of damping force adjustment.
This kit includes front and rear upper mounts.
The upper mounts increase steering response, and allow EDFC compatibility. On strut type vehicles, the front upper mounts will include camber adjustment plates.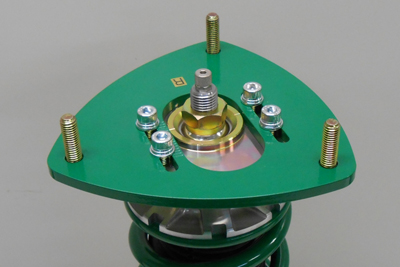 All springs are made of high tensile steel SAE9254 and cold formed for excellent resistance to sagging and for superior quality stability. The surface is powder coated for superb protection against chipping/peeling and provides long lasting anti-corrosion performance.
This coilover supports TEIN EDFC (not included) and is fully compatible with all EDFC versions.
Features:
Steel Construction
Twin Tube internal construction
16 way adjustable dampers, compression and rebound combined
Ride Height adjustable via spring seat and threated body
Pillow ball upper mounts for increased steering feel
(some applications may include hardened rubber mounts instead of pillowball type)
Upper camber adjustment on front for strut type vehicles
Larger piston diameter for strut type front and rear (22mm)
Powder coated damper body with Zinc coated threaded section
Cold formed springs to prevent sagging
1-year Manufacturers Defect Warranty
Limited replacement service (you can buy new shock absorbers for replacement)
Best bang for the buck coilovers out there
Contents of Damper Kit:
Adjustable Shock Absorber × 4
Main Spring × 4
Some applications include helper springs
Upper Mounts x 4
Seat Lock × 8
Lower Spring Seat × 4
Bump Rubber × 4
Hook Spanner × 2
Dust Cover × 4
Instruction Manual × 1
Sticker Sheet × 1